Known for her paintings of erotic female nudes, Lene Schneider-Kainer divorced her husband in 1926 and set off on an artistic odyssey across Asia. Retracing Marco Polo's journey, the intrepid artist travelled from opium dens in Isfahan to Buddhist temples in the Himalayas and from brothels in Agra to the Peking Opera.
When she died, Schneider-Kainer left her travel diary, photographs, scrapbooks, and over 100 watercolors and sketches to the Leo Baeck Institute. Archivist Michael Simonson takes these rarely seen treasures Out of the Box and reveals the enchanting art and surprising story of a German-Jewish artist who defied the male art world and broke the boundaries set for women in her time.
Come early or stay late to see paintings by 11 other artists forced by the Nazi regime to leave Germany and Austria (as Schneider-Kainer would be, as well) on display in the Katherine and Clifford H. Goldsmith Gallery as part of LBI's current exhibition, The Art of Exile: Paintings by German-Jewish Refugees.
About the Series
At the Center for Jewish History, there are tens of thousands of boxes in our partners' archival collections. Boxes filled with photographs, journals, letters, and documents. Boxes filled with stories. We take these treasures Out of the Box in our new series. Join us!
About the Speaker: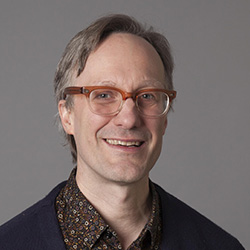 Archivist and Director of Public Outreach at the Leo Baeck Institute, Michael Simonson discovered the story of Lene Schneider-Kainer when he was asked to translate her diary from German to English for greater research use. Drawn to her creativity and independence, Michael also began to explore a broader story of how Europeans, especially European Jews, viewed the Middle East and Asia in the 19th and early 20th century.  Originally from Minnesota, Michael studied German history and German language before attending Pratt Institute for archival studies.  A former President of the Archivist Roundtable of Metropolitan New York, Michael has worked at LBI for the last seventeen years.

Presented by: