Award winning actors Ed Asner and Tovah Feldshuh star in a concert reading of The Soap Myth, a powerful play about survival, memory, and truth. Set more than fifty years after WWII, a young Jewish reporter grapples with different versions of the same story - did the Nazis make soap from the corpses of murdered Jews? Ed Asner portrays Milton Saltzman, a Holocaust survivor committed to proving that this atrocity happened while Tovah Feldshuh plays dual roles of a Holocaust scholar and a Holocaust denier - both of whom reject Saltzman's memory. Performed in tribute to Yom HaShoah, The Soap Myth dramatizes the painful confrontation between survivors, scholars, and Holocaust deniers, and questions who has the right to write history. Written by Jeff Cohen and directed by Pam Berlin, the production features Ned Eisenberg in multiple roles including Holocaust scholar Daniel Silver and Liba Vaynberg as journalist Annie Blumberg. The concert reading at the Center for Jewish History is part of the production's National Tour.
This performance will be filmed by ALL ARTS, a new broadcast channel and streaming platform produced and distributed by WLIW, a member of the WNET family of public media organizations. Visit allarts.org for information on how to watch.
The program will be followed by a Q&A with Ed Asner, Tovah Feldshuh, Jeff Cohen, and cast.
Ticket Info: $25 general; $20 CJH/Partner members at thesoapmyth.bpt.me or 800-838-3006; $30 at the door
About the Speakers: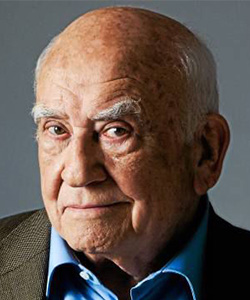 ED ASNER (Milton Saltzman)
Seven-time Emmy Award and five-time Golden Globe Winner, Ed Asner is beloved for such legendary roles as Lou Grant in "The Mary Tyler Moore Show" and "Lou Grant," Santa Claus in the Will Farrell-comedy Elf, and Carl Fredrickson in the smash animated feature Up. This marks the third year that he will perform the role of Holocaust survivor Milton Saltzman in The Soap Myth. Mr. Asner also starred as the voice of Carl Fredricksen in Pixar's 2009 box office hit UP! and as Santa Claus in the holiday classic Elf opposite Will Ferrell. He most recently starred in the feature films Honor Amongst Men alongside Rock and Roll Hall of Fame inductee Joan Jett, Angels on Tap opposite Marion Ross, and The Parting Glass with Melissa Leo, Cynthia Nixon, Denis O'Hare, and Anna Paquin, as well as appearances in television shows "Forgive Me," "Cobra Kai," "Michael: Every Day," "The Good Wife," and "Bones," among many others. Asner returned to Broadway in the fall of 2013 starring in the comedy drama Grace opposite Paul Rudd, Michael Shannon and Kate Arrington, written by Craig Wright and directed by Dexter Bullard. He's also been touring the country as Franklin Delano Roosevelt in the critically acclaimed one man show FDR for over 5 years. Serving as the National President of the Screen Actors Guild for two terms, Asner was inducted into the TV Academy Hall of Fame in 1996. In 2002, he received the Screen Actors Guild Life Achievement Award for career achievement and humanitarian accomplishment, presented annually to an actor who fosters the highest ideals of the profession.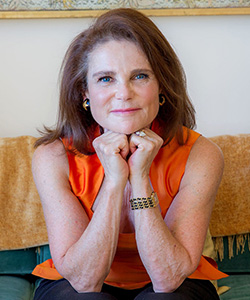 TOVAH FELDSHUH (Esther Feinman/Brenda Goodsen)
For her critically acclaimed work on the New York stage, Tovah Feldshuh has earned four Tony nominations for Best Actress and won four Drama Desks, four Outer Critics Circles, the Obie, the Theatre World and the Lucille Lortel Award. Her show, Golda's Balcony by William Gibson, became the longest-running one-woman play in Broadway history. Her additional Broadway credits include the titular role in Yentl, Sarava, Lend Me a Tenor, Irena's Vow, and most recently starred as Berthe in the Tony Award-winning revival of Pippin. She also has a storied career as a cabaret artist, touring her show Tovah: Out of Her Mind! internationally and selling out an eight-week run on London's West End. On television, Ms. Feldshuh received her first Emmy nomination for Helena, the Czech freedom fighter, in the NBC mini-series "Holocaust", and her second nomination for her continuing role as defense attorney Danielle Melnick on NBC's "Law & Order." She is widely known for her starring roles on TV's "The Walking Dead" and "Crazy Ex-Girlfriend." Film credits include Kissing Jessica Stein (Golden Satellite Award), A Walk on the Moon, The Idolmaker, and Brewster's Millions. Other recent credits include She's Funny That Way with Jennifer Aniston and Owen Wilson, Angelica with Janet McTeer and Jena Malone, a recurring role as President of the United States on TV's "Salvation," and the title role in Glinda ("Best in Fest"- '14 Palm Beach Film Festival.) Long known for her commitment to social justice causes, Ms. Feldshuh is the recipient of the Eleanor Roosevelt Humanities Award, the Hadassah Mother of the Year Award, and the Israel Peace Medal.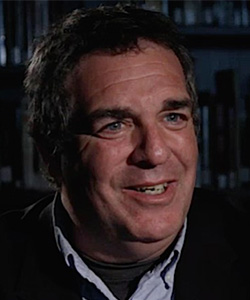 JEFF COHEN (Playwright)
As a playwright, Jeff Cohen is known for original work and adaptations including The Soap Myth, Men Of Clay – a memoir about his father Stan "Squeaky" Cohen and tennis in 1970s Baltimore (Best New Play, Baltimore City Paper), The Man Who Ate Michael Rockefeller - adapted from the Christopher Stokes short story (Critics Pick, The New York Times and Time Out New York), Whoa-Jack! – his racially-charged adaptation of Woyzeck starring Golden Globe nominee Michael Ealy (AUDELCO Award), and The Seagull/The Hamptons, his highly-acclaimed American adaptation of The Seagull whose various productions have featured Tammy Grimes, D.B. Sweeney, Marin Hinkle, Lizbeth Mackay, Neil Huff, and the New York stage debut of Laura Linney (Ten Best of the Year – The Boston Globe). He has recently finished two new plays: Righteous, about a "righteous gentile" who warned the world about the Final Solution in August, 1942, and Squeaky, a sequel to Men of Clay about end-of-life events with his father Stan "Squeaky" Cohen. Mr. Cohen was founder and artistic director of three Off-Broadway theaters – the RAPP Arts Center, the Worth Street Theater Company/Tribeca Playhouse, and Dog Run Rep. Directing highlights include Christopher Shinn's Four (New York Times Critics Pick, Lortel Award, Drama Desk nominee), Tristine Skyler's The Moonlight Room (Critics Pick and Annual Ten Best list – New York Times, two Lortel nominations, Outer Critics nominee) and Marlene Meyer's The Mystery of Attraction (Obie Award). Mr. Cohen is best known for his signature theatrical event responding to the Attacks of 9/11, THE TRIBECA PLAYHOUSE STAGE DOOR CANTEEN – a 10-week USO style variety show to "entertain the troops" (the rescue and recovery workers at Ground Zero) and received a special 2002 Drama Desk Award.

Presented by: